Origin: IN(Origin)
Material: Other
Type: Brush
Use: Cleaning
Product: Bath Brush/Massage Brush
Model Number: YJ45403
Application: Body
BATHING JUST GOT BETTER!
Silicone Massage Bath Body Brush Soft Bristle With Shampoo Dispenser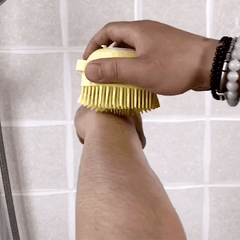 Bath body brush with shower gel dispenser can gently exfoliate, will not damage skin, promotes healthy skin, and activates blood circulation. It will squirt shower gel with a light push of the button on top. Use it every day to clean your skin.
 
Soft bristles made of soft and fine silicone bristles, the bristles are not easy to deform and have excellent heat resistance.
Comfortable contoured shape design will fit your palm perfectly, the brush will provide you with the best comfort. Easy to use push the top port to spray shower gel and dispense shower gel on demand easily.
Practical unscrew the lid and pour the shower gel, very easy to refill, the body brush having a better cleaning effect and high efficiency. Large filling capacity, continuous use for up to a week at a time.
Easy to use, fill the foaming with liquid soap and squeeze the baby. Bring great convenience to your shower time
Quick-dry body bath brushes easy to use and clean. Simply rinse it once you're finished using it, then hang it up for drying.
In the Box
1 x Soft Silicone Shampoo Container Brush